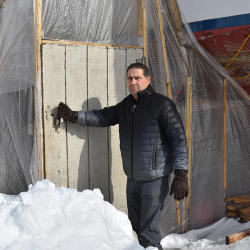 Captain Bill's Legacy is in uncharted territory at the moment: about 12' above the surface of Seneca Lake. In addition to annual in-water inspections, commercial sailing vessels on federal waters must undergo dry-dock inspections every five year. It's that time for the Legacy.
With decades under his Captain's hat, Mark Simiele is used to the exercise and has learned that one of the keys to success is controlling as many variables as possible, which is easier to do when working with local talent.
"We used to take the boats through the Canal system for the dry-dock inspection," said Mark. "We had to disassemble the deck to get it under the bridges, and we were never sure when we would be able to bring it back through the Canal to start our season."
To execute the inspection locally, though, required specialized infrastructure. Mark worked with local community leaders and professionals to build an underwater trolley system so that the boat can be removed from the water using winches and placed in cradles waiting on shore.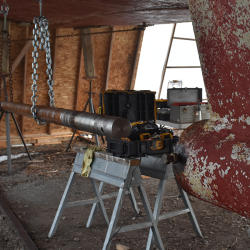 The 110-foot, 59-year-old ship was removed from Seneca Lake in November 2021. The all-day event required two captains, two crew members, two divers, and a towing team from T and R Towing with two wreckers. Once ashore, team members went to work building an enclosure to protect the on-shore team from the cold winds of winter.
Inside the enclosure, Bob's Welding and Fabrication, working with Captain Greg Updyke, First Officer Dan Kane, and welder Cody Lakomy, is replacing bearings, fabricating a new rudder post, and reinforcing a couple of spots on the vessel's bottom with steel plates.
"The Coast Guard audio-gauged the boat using a 1-foot grid, looking for areas of the hull that needed to be strengthened," said Mark. "The technique is similar to an ultrasound. With the results in hand, the welders knew exactly which sections needed attention."
While on land, the team will also scrape, sand, and paint the hull with antifouling paint that prevents marine organisms such as barnacles and zebra mussels, weeds, slime, and algae from attaching themselves to the hull. 
And, all of this will be completed before the season starts in May!