It's hard to believe, but August is here! We are seeing the back to school commercials on TV and keep wondering, what's the rush?! There is plenty of summer left to enjoy! So, for our August blog post, we thought we'd give you some travel inspiration by listing 5 experiences that you can enjoy in the coming month or so.
Have you waited to book your getaway and are worried that things are booked up already? It's never too late! Lots of our lodging partners still have accommodations available for the month of August.

► CLICK HERE to browse accommodations (hover over the "Stay" menu on our homepage) and let us know if we can help. We're only a phone call away: 800-607-4552.
You can also find things to do, where to eat, an events calendar, a digital version of our travel guide, and much more on our website. Now, onto the good stuff!
#1. Make your own gin at Finger Lakes Distilling's OriGINal Gin Workshop
This workshop is designed specifically for groups of 1-8 people to create their own blend of gin, distill it, and receive 40 bottles (375 mL) of their own masterful creation! This program is great for friends or families, corporate retreats, bachelor/bachelorette parties, or even a solo venture. Whether you're a gin connoisseur or a botanical novice, the OriGINal Gin Workshop is fun, educational, and rewarding for everyone.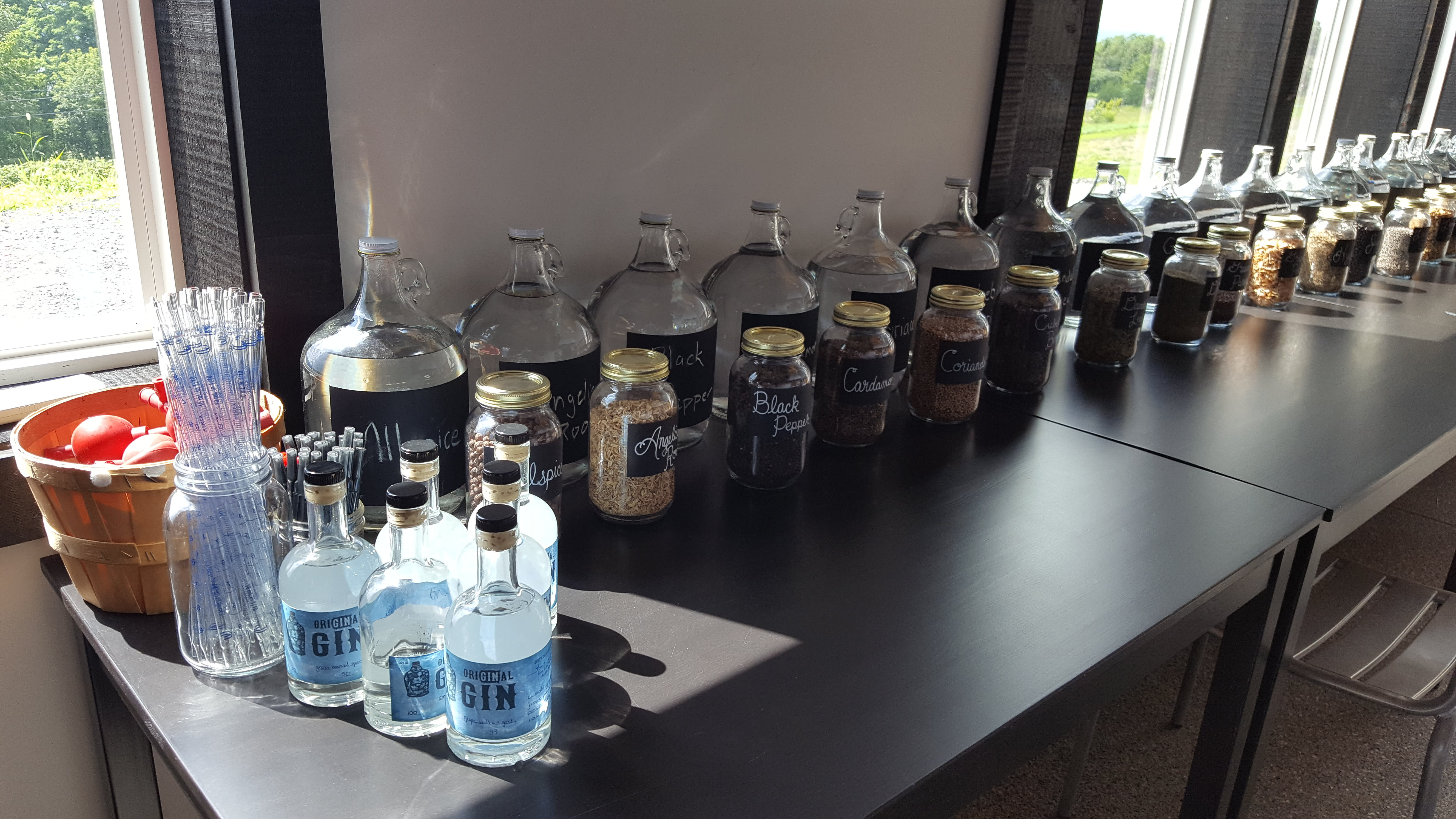 Finger Lakes Distilling welcomes you to create a unique gin blend that's just perfect for your taste. You will have a hand in every single step of the process, from botanical selection all the way down to applying the labels to the bottles yourself.
► Click here to learn more.
#2. Take a hot air balloon over Seneca Lake
Whether you take off from Clute Park, right in the heart of Watkins Glen, or a location outside of town, your views will be unmatched when you soar above the trees.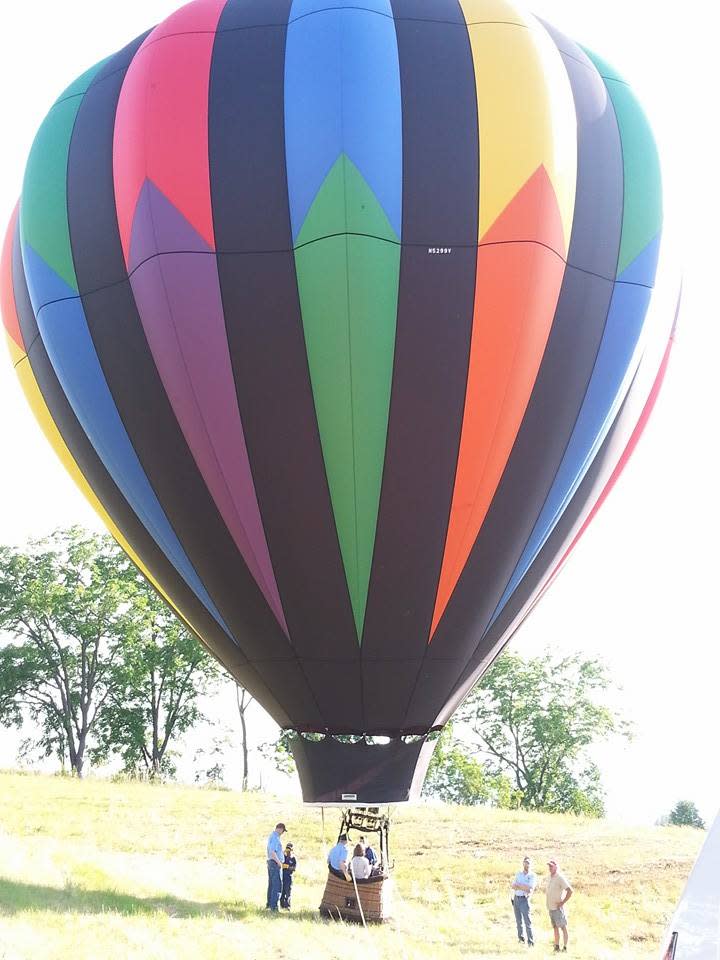 Liberty Balloon getting ready to lift off at a local winery.
A hot air balloon ride is a bucket list for many enthusiastic travelers and there is truly no better way to take in the sights of the Finger Lakes!
Liberty Balloon Company and Southern Tier Ballon Tours both offer hot air balloon flights in our area. Ballons take off in the early morning (just after sunrise) or late evening (a couple of hours before sunset) to take advantage of light wind and fair weather. Contact either of our friendly partners to learn more today!
► Click here to visit Liberty Balloon Company.
► Click here to visit Southern Tier Ballon Tours.
#3. Go kayaking on Seneca Lake and her surrounding waterways
There is nothing quite like gliding through the water in a kayak. These boats are light, easy to paddle, and stable! Summit to Stream adventures right here on the waterfront in Watkins Glen offers kayak rentals, guided fishing excursions, and much more.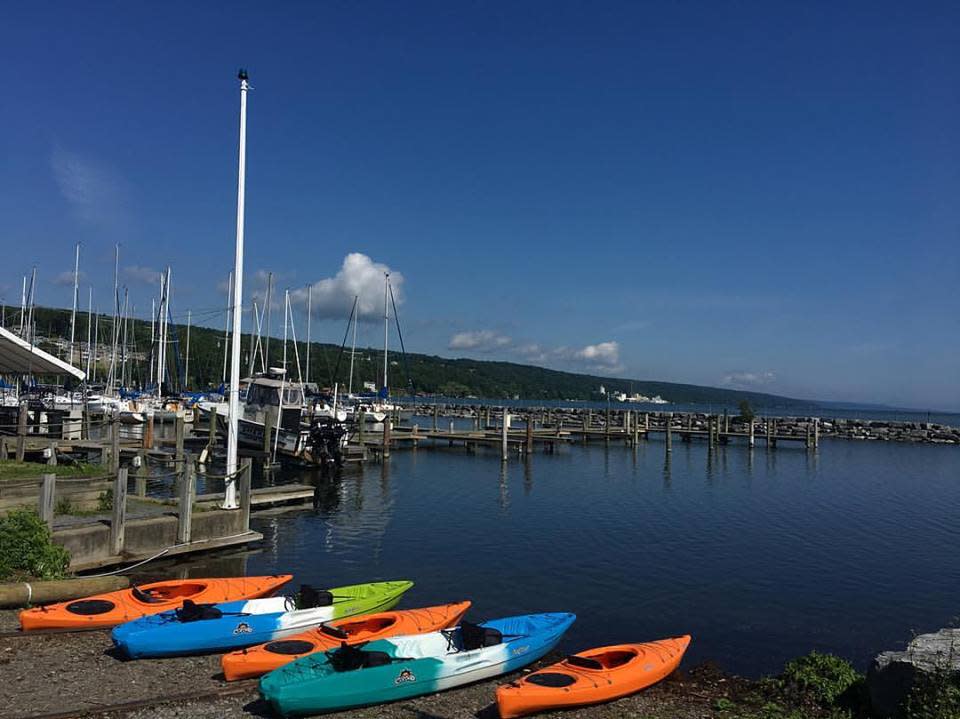 Image: Summit to Stream
Their Facebook page is full of beautiful photos and provides a great overview of the many things you'll see from the comfort of your kayak.
Owner Mark Moskal is an experienced guide and he can give you some lessons and tips on how to make the most of your paddle!
► Click here to learn more.
#4. Hop aboard The Remedy for an eco-history tour
Take a cruise on this custom built Oldport 26 Launch, REMEDY.  They offer Eco Tours, History Tours, Custom Winery, Brewery, Distillery Tours and Sightseeing Cruises.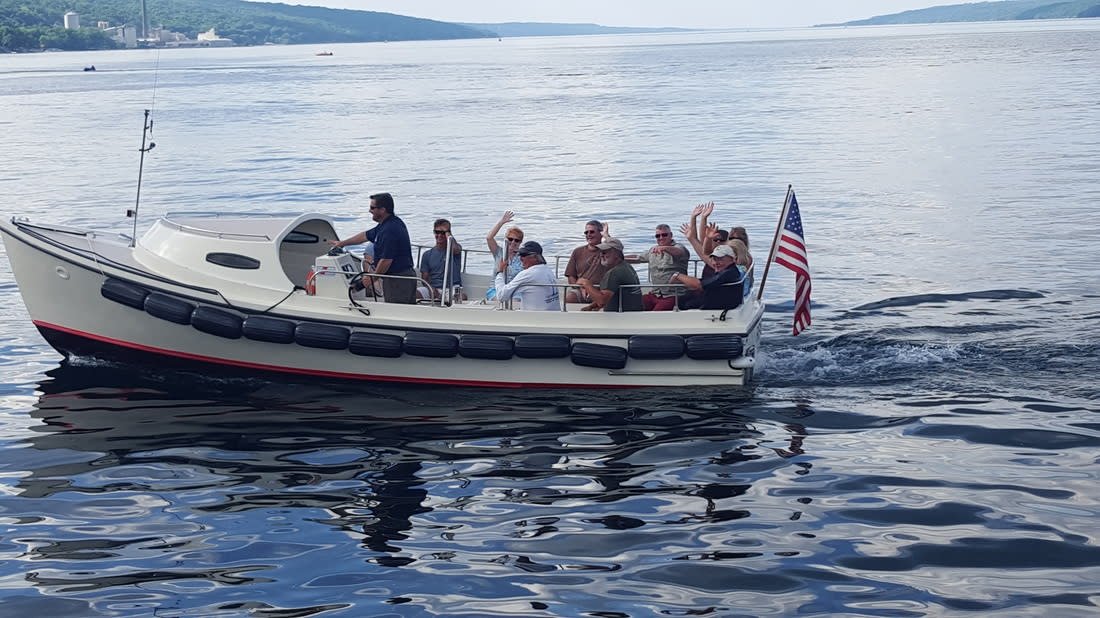 Image: Schooner Excursions
The Finger Lakes Region is filled with an abundance of wildlife and local history.  M/V REMEDY is a great new platform to see some of the beautiful indigenous species of wildlife in the area as well as hear about our local history.  Cruise down the old Chemung Canal, which cuts right through the Catharine Marsh. You may see wild birds such as eagles, herons, and much more!
► Click here to learn more.
#5. Speed into September
Fall comes alive in Watkins Glen with INDYCAR, the Vintage Grand Prix, and the Grand Prix Festival!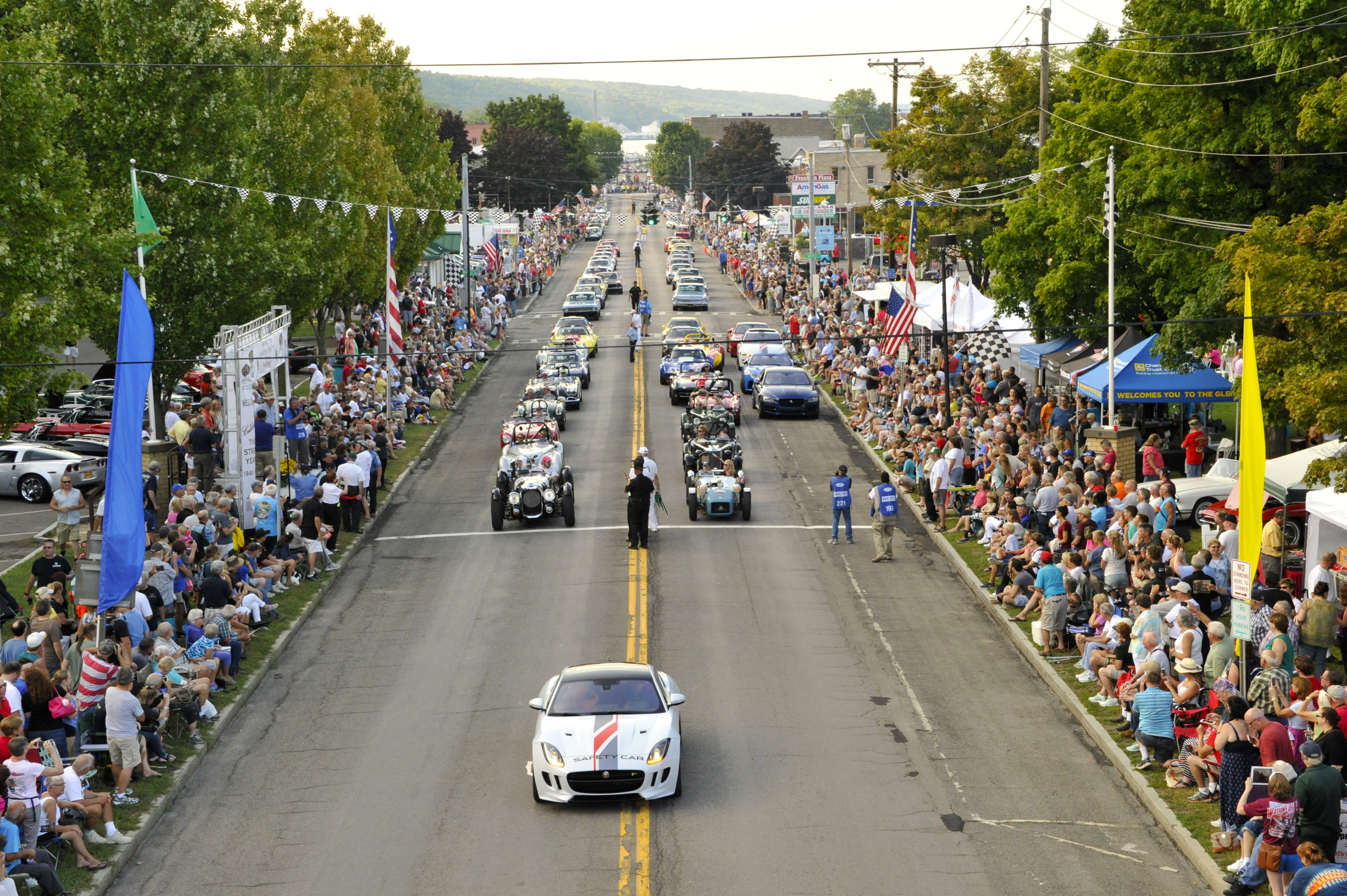 INDYCAR rolls into town August 31 through September 3, where the top teams from the Indy Car Series will look to take the checkered flag at the headline event on Sunday, September 3 at famed Watkins Glen International.
► Click here to learn more!
Watkins Glen is called the Home of American Road Racing because our village streets played host to the first Post-World War II Road Race in the world!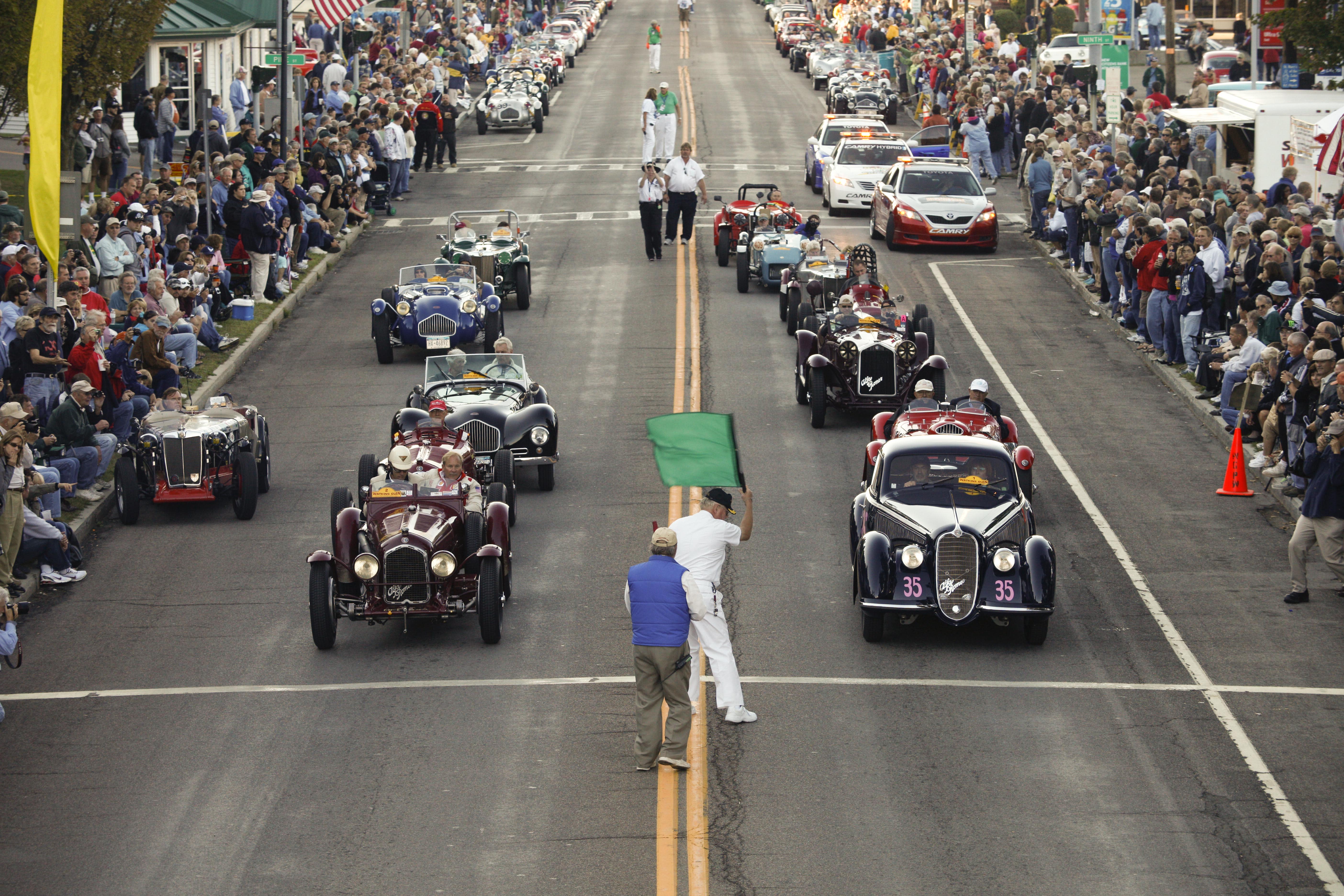 Held in September each year, the Grand Prix Festival is a downtown street festival (marking its 24th year in 2017) that celebrates this incredible history. Vintage cars arrive from across the country and in fact, across the world, to participate in the slate of events – the crowning jewel of which is the historic re-enactment of the road race. The festival isn't just for race fans though, it features vendors of all kinds, delicious food, and plenty of entertainment for guest of all ages and interests. This event takes place Friday, September 8, 2017. Come and check it out!
► Click here for more information
---
As always, thanks for reading! We hope you found some new and exciting things to do to start your trip planning. Or, maybe you were reminded of a classic favorite or two. Either way, let us know how we can help. Give us a call: 800-607-4552, visit our website, and be sure to stop by (214 N. Franklin Street, Watkins Glen) when you arrive. We have a great Visitor Center chockful of brochures, maps, and area information, with travel experts standing by to assist. Hope to see you soon!
---
Looking for more travel inspiration? Follow us on Instagram, Facebook, and Twitter!