June brings lots of energy and happiness – school is out (or nearly out) for summer, the weather is warm and sunny, and everyone is excited to get out and enjoy the many activities, attractions, and wonderful opportunities that abound in the Finger Lakes! Here in Schuyler County, there is no shortage of things to do. Any night of the week you can find great restaurants, special events, unique shopping, and live music to enjoy. Weekends bring extra buzz with festivals, fairs, and more! We thought we'd highlight just a handful of things to do, including a few that could be considered hidden gems. We're all about shining a light on all that our area has to offer!
Experience the Arts
Art can be intimidating, but Kathy and Joe Matus at Quintus Gallery are dedicated to dispelling that myth and bringing art to the masses! By bringing in multiple senses – sight, smell, taste, and sound – you'll find a new way to approach and appreciate art in their new event series titled Art Pair™.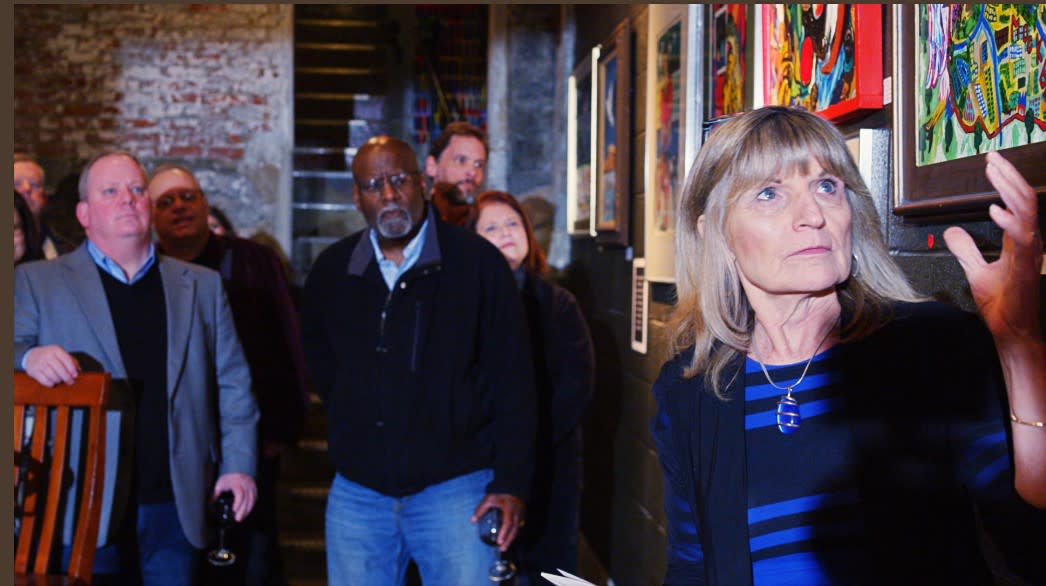 Enjoy a strolling tour of the gallery as you learn  about 4 paintings and design principles, each paired with a delicious, thoughtfully prepared hors d'oeuvres, a wine from Dr. Konstantin Frank Winery, and a musical selection. Offered on Thursday/Friday/Saturday at 4pm, this event does require advance reservations. Take advantage of their early summer rate (good for June only) of just $15/person (normally $35/person)! If you're interested but can't make those days/times, just contact Kathy at the gallery and she'll gladly work with you! Learn more and make your reservation here. (Quintus Gallery, 65 Salt Point Road, Watkins Glen, NY 14891)
Step Back in Time in Montour Falls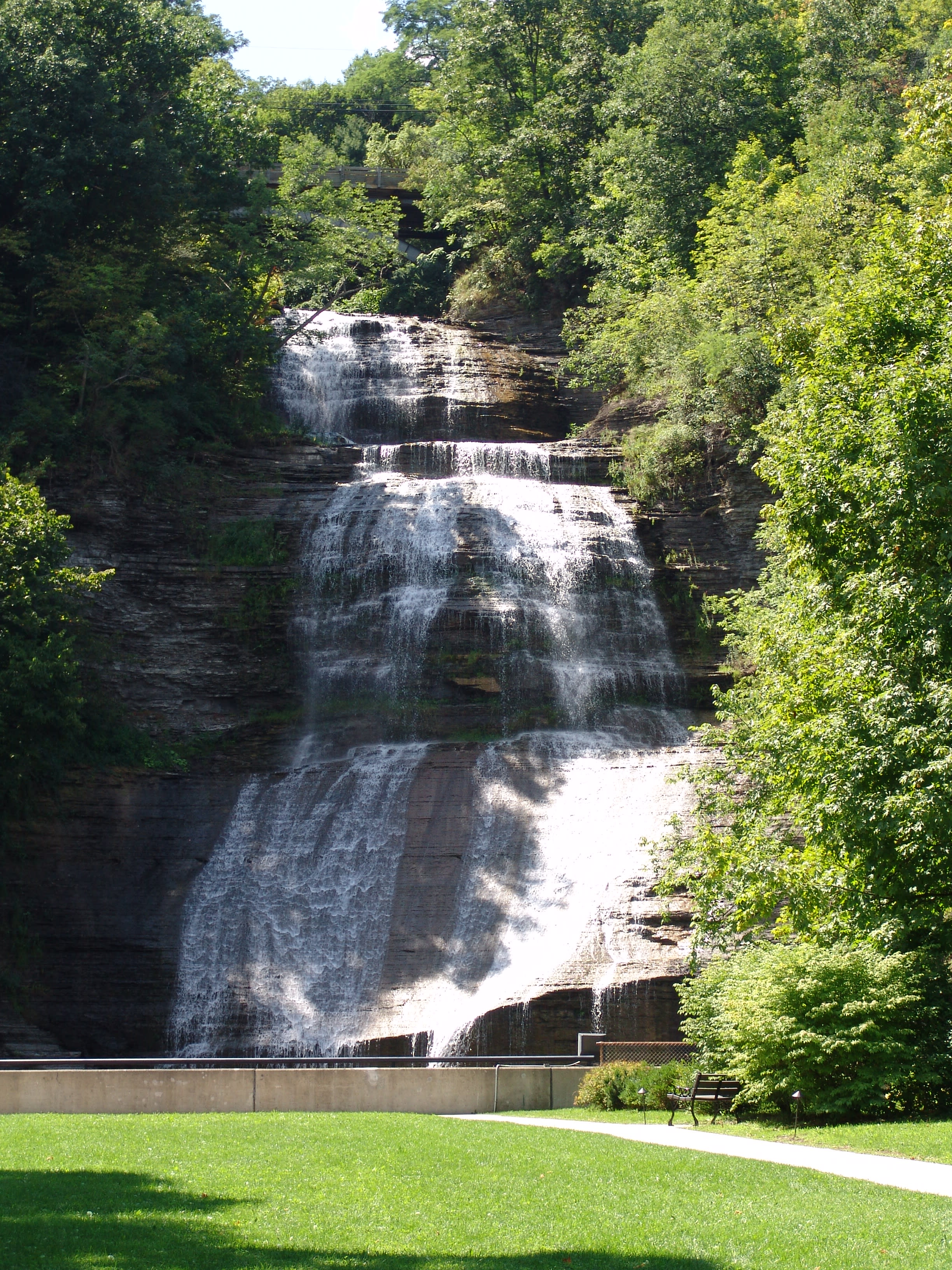 The village of Montour Falls is truly a gem in the Finger Lakes. With a wonderful mix of historic homes and buildings, a wonderful historic museum, the Glorious T District, quaint cafes and shops, and of course, Shequaga Falls, you'll feel like you stepped back in time when you visit.
Morningstar Carriages offers private horse-drawn carriage rides through this bucolic village. The clip-clop of the horses, the sound of Shequaga Falls in the background, and the chance to slow down, this is the perfect opportunity to look around, and truly enjoy the sights that surround you. Adults $15, couples $25, children over 2 $6, children under 2 are free. Available Memorial Day Weekend through Labor Day Weekend every Friday 6-8pm and Saturday 3-5pm, weather pending. For more information call Brian at 607-302-0533 or click here to visit their website.
Family Friendly Things to Do
Family time is a precious commodity these days and lucky for us, we have an awesome event in our community aimed at creating more family time. If you haven't yet, stop by Clute Park on Wednesdays in July and August to enjoy Movies on the Lake and the Clute Park Market!

Photo Courtesy Clute Park Market
Imagine a beautiful lakefront setting where you can unfurl your blanket, pop up your camp chairs, and enjoy a movie with your friends and family… well, we've got it! From 5:30-8:30pm Clute Park Market will feature local food, crafts, produce, wine, and beer. You can stock up on items to enjoy during the movie, which begins at dark. These events are free to attend and open to the public. (Clute Park, 155 S. Clute Park Drive, Watkins Glen, NY 14891)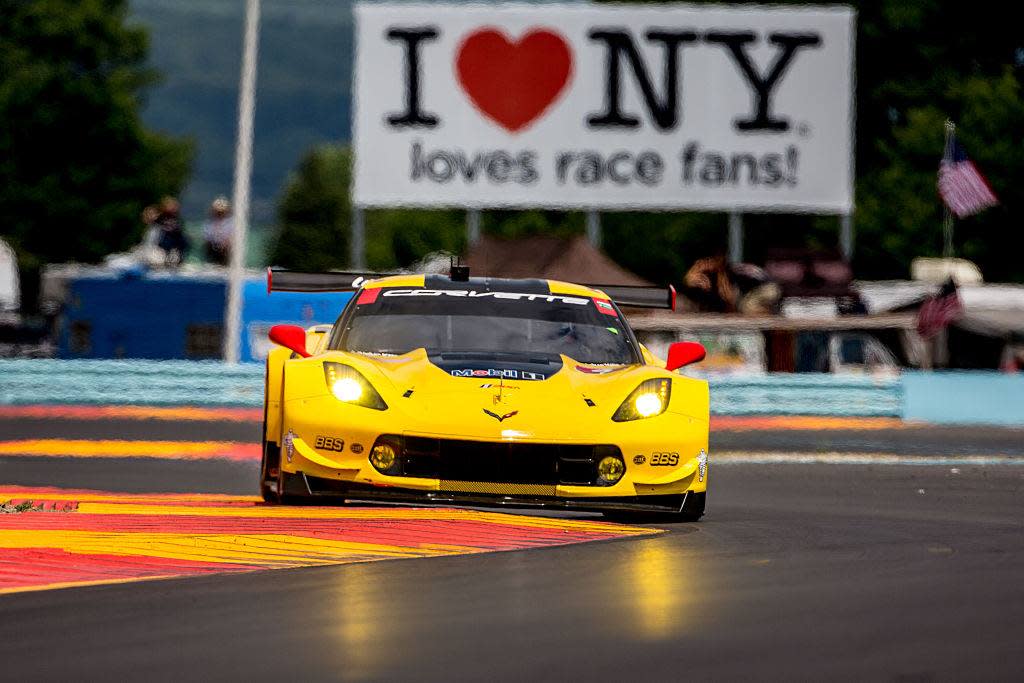 Photo Courtesy Watkins Glen International
Attend a race at famed Watkins Glen International! Race season gets under way in June with SCCA Majors, Sahlen's Six Hours of The Glen, and then August brings NASCAR, and INDYCAR late in the month into September, then there's the Vintage Grand Prix! Oh, you can also "Drive the Glen" at 12pm and 5pm on certain dates - how cool is that?! Learn more about Drive the Glen here. With renowned hospitality, great vantage points, and camping onsite, you are sure to find an awesome new family tradition at The Glen! (Watkins Glen International, 2790 County Route 16, Watkins Glen, NY 14891)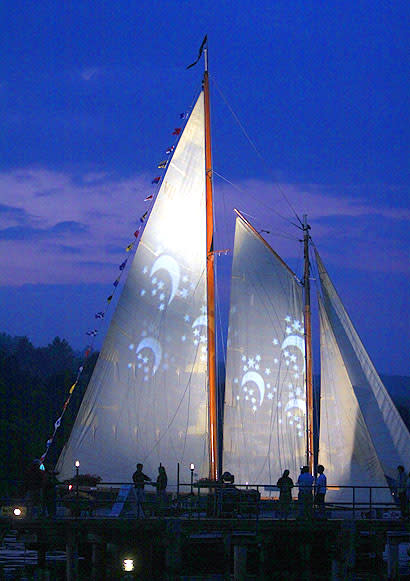 The Waterfront Festival and Cardboard Boat Regatta: this two-day festival held June 16 and 17 on the waterfront in Watkins Glen is a fantastic and FREE family experience. Kicking off Friday night with Harbor Lights (a beautiful light show in the Seneca Harbor Marina), plus a food court and live musical entertainment, the party really gets going on Saturday with the famed Cardboard Boat Regatta at 2pm. Click here to learn more!
Rainy Day Activities
No matter how much we wish it would, the sun doesn't always shine. So, what is there to keep you occupied on those rainy days in the Finger Lakes? Well, how about learning more about local and regional history and culture? Or maybe you want to explore your artistic side with a fun class or activity at a local gallery.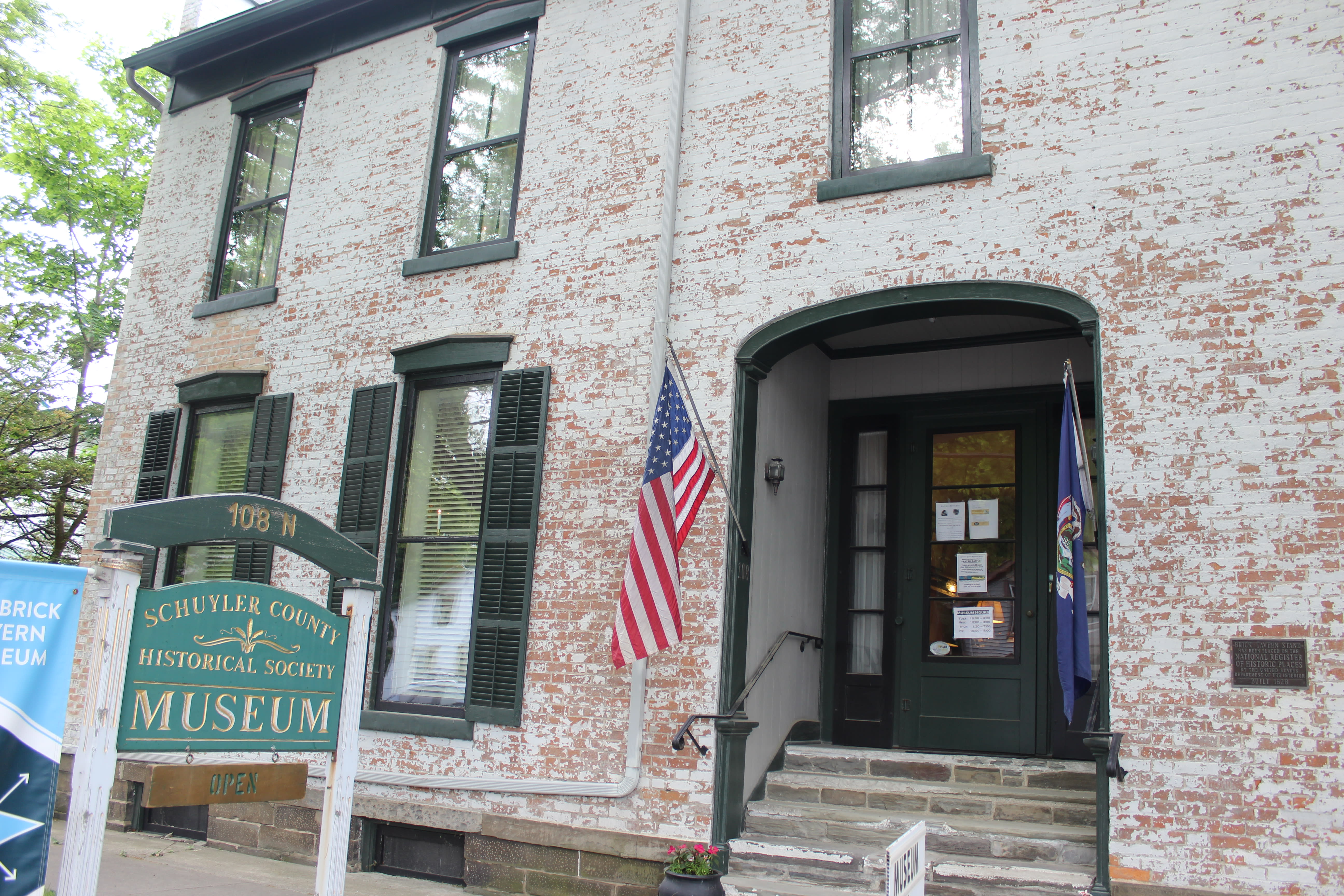 The Brick Tavern Museum
Brick Tavern Museum: The Schuyler County Historical Society was organized in 1960 to preserve, interpret, and share the history of Schuyler County New York. The Brick Tavern Museum, built in 1828, is the oldest brick structure in Schuyler County. Today it houses artifacts from Schuyler's past and a research library for genealogical and historical research. With rotating exhibits and a great gift shop, you'll want to put this on your list of indoor stops for those extra hot days when you need a little extra AC or those stormy days when outdoor activities aren't possible. You won't be disappointed! (The Brick Tavern Museum, 108 N. Catherine Street, Montour Falls, NY 14865)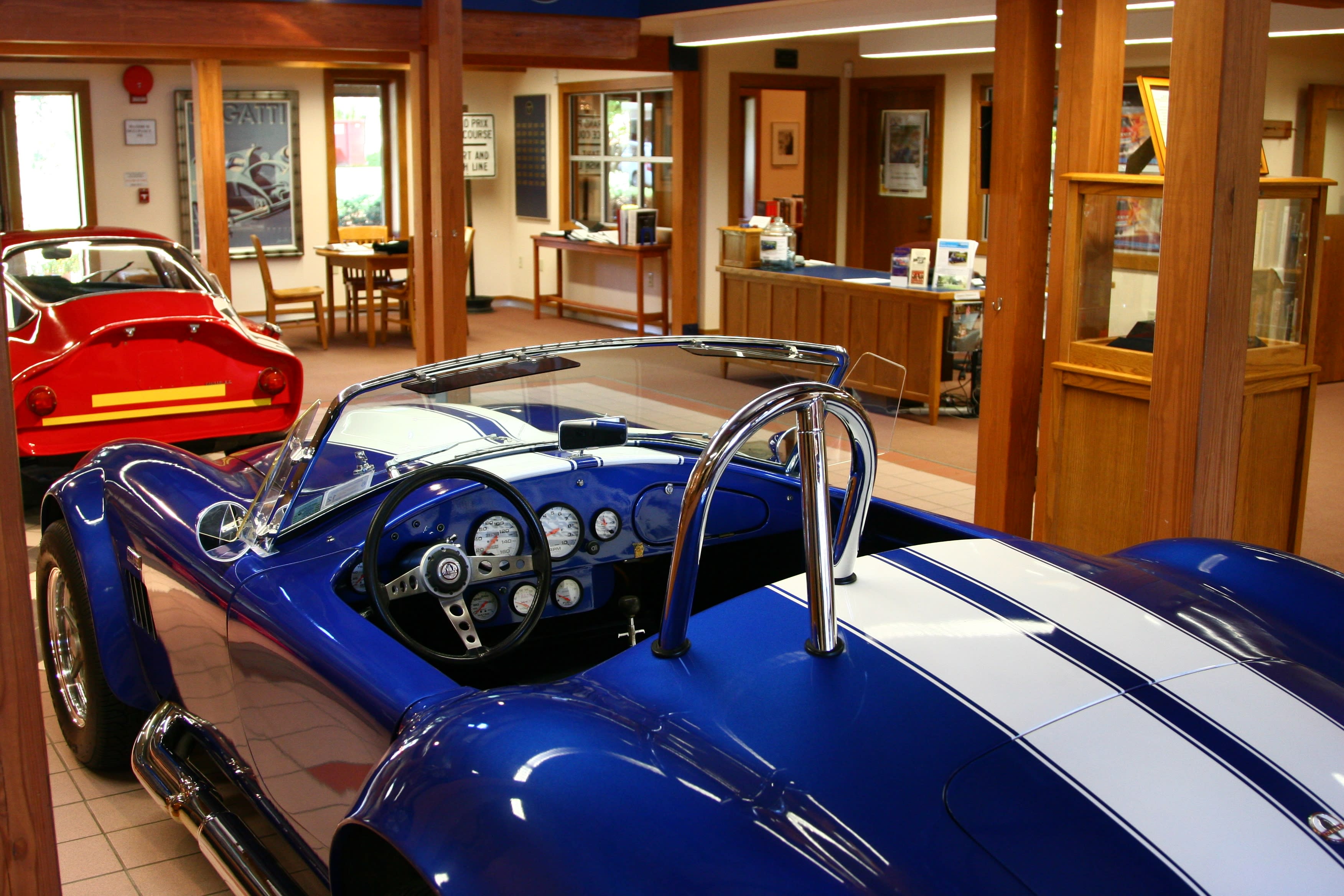 International Motor Racing Research Center
International Motor Racing Research Center: The International Motor Racing Research Center provides 5,000 square feet of racing history to explore. This includes a reading room, film room, exhibits, and worldwide racing archives. Famous race drivers periodically give talks and a vintage race car that changes every few months is on display in the atrium lobby. They offer a fun and informative 20-minute video that we strongly recommend to all visitors to the area.
Did you know that the quaint village of Watkins Glen hit the world stage when we hosted the first post-World War II road race? You can even drive the historic race circuit yourself with a self-guided map! This is a great experience for young and old alike.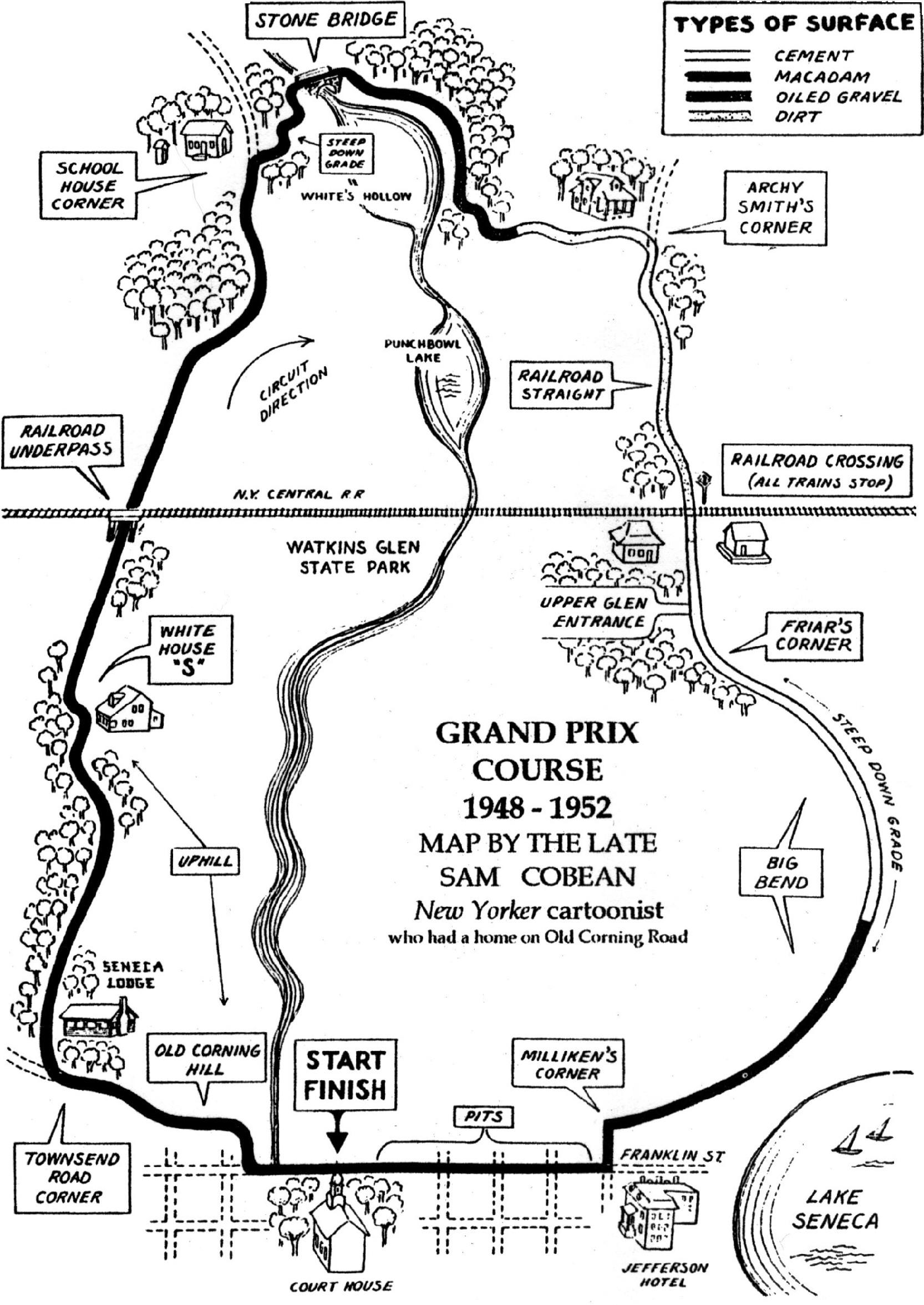 Original Grand Prix Course
Racing runs in our blood and you can feel the energy alive in our streets! In fact, be sure to check out our sidewalks for the Drivers Walk of Fame - plaques to recognize drivers and their accomplishments. The race history is amazing here and it's a serious source of pride for our community. Catch the race fever! (The International Motor Racing Research Center, 610 S. Decatur Street, Watkins Glen, NY 14891)
Franklin Street Art Gallery: no visit to the Franklin Street Art Gallery is ever the same. With constantly refreshed pieces and an ever-rotating variety of beautiful work from photography to watercolor to fused glass to jewelry and seemingly, everything in between! (209 N. Franklin Street, Watkins Glen, NY 14891)
Local Is Better – Farmers Markets Return for the Season
With so much natural beauty around us, it's easy to forget the incredible ground below us. That ground (and the incredibly rich, glacially-deposited soils that compose it) produce fantastic, fresh fruits and vegetables, feed many farm animals, and nurture decades' old fruit trees, vines and more. Farmers markets offer the perfect opportunity to buy fresh, local food – directly from the source. Too often we think that local food is more expensive and that simply isn't the case. Swing by one of our local farmers markets to dispel this myth for yourself!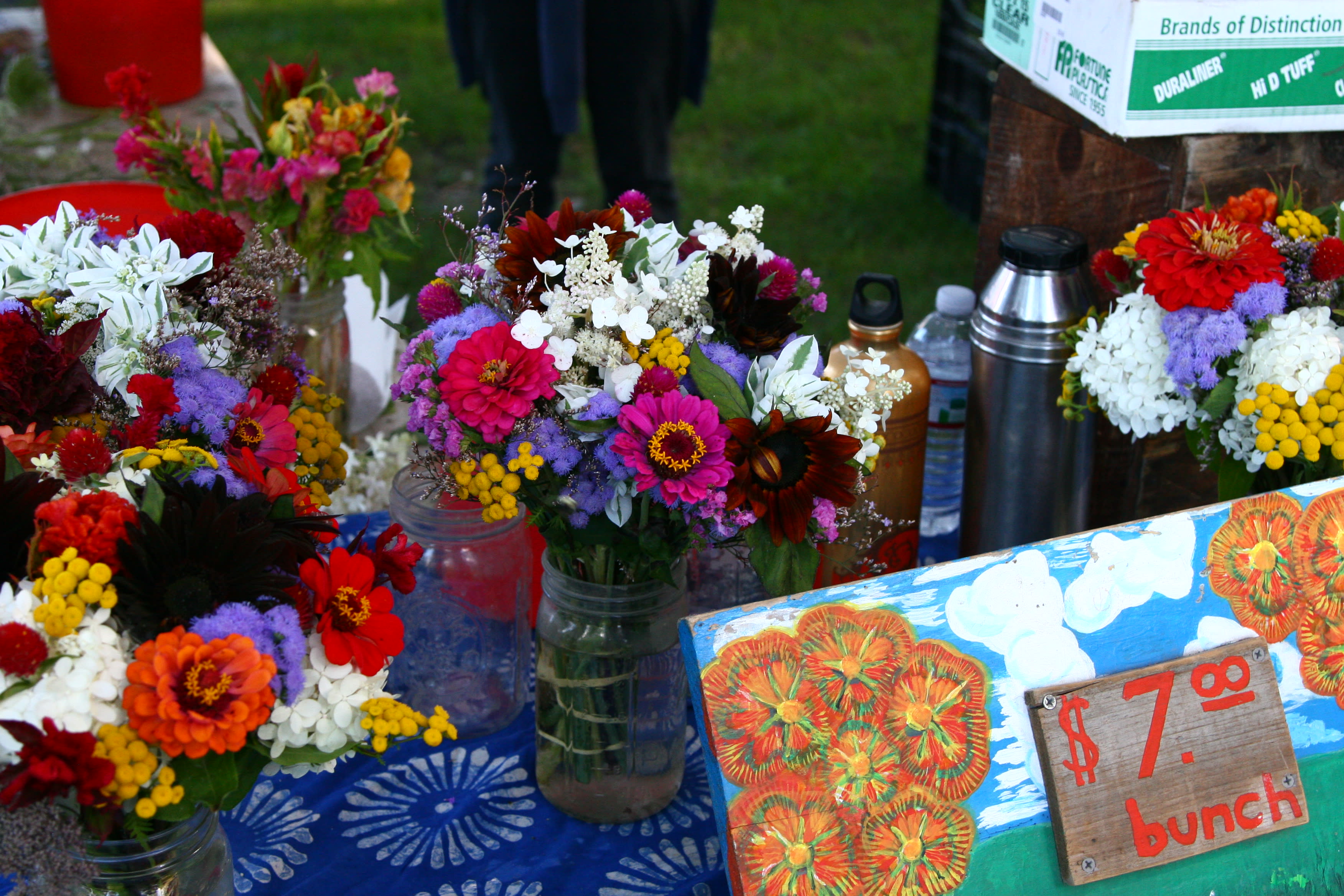 A convenient walk from all destinations in downtown Watkins Glen, the Watkins Glen Farmers Market takes place at Lafayette Park on 4th Street, every Friday from 3-7pm. From Memorial Day Weekend until the last Friday in October you'll find fresh vegetables, chicken, beef, eggs and flowers from local farmers You'll also find baked goods, cheese, maple syrup, honey, soap, wine and unique crafts; all produced locally.
Side note: Lafayette Park is also home to a great playground and benches so that you can relax and enjoy the fresh air. On Tuesdays from June 27 – August 22 from 7-9pm, enjoy a mix of great live music. Bring your lawn chair! (Lafayette Park, Corner of 4th and Decatur Streets, Watkins Glen, NY 14891)
The Montour Falls Farmers Market is held on West Main Street from 4-7pm on Thursdays from May through October. Local farmers offer vegetables, fruits, meats and cheeses. Food trucks provide hot meals and treats. Entertainment includes live music and story time for the children.
Click here to learn more about the many other experiences you can enjoy regarding local food, farms, and more from u-pick orchards to horseback riding, and more!
Get Outside
Everyone knows Watkins Glen State Park. After you've taken in the 19 waterfalls and stunning sights of the Gorge Trail, you can find much more to explore outside of the park. Click here to learn more about the many Outdoor Recreation opportunities in our area!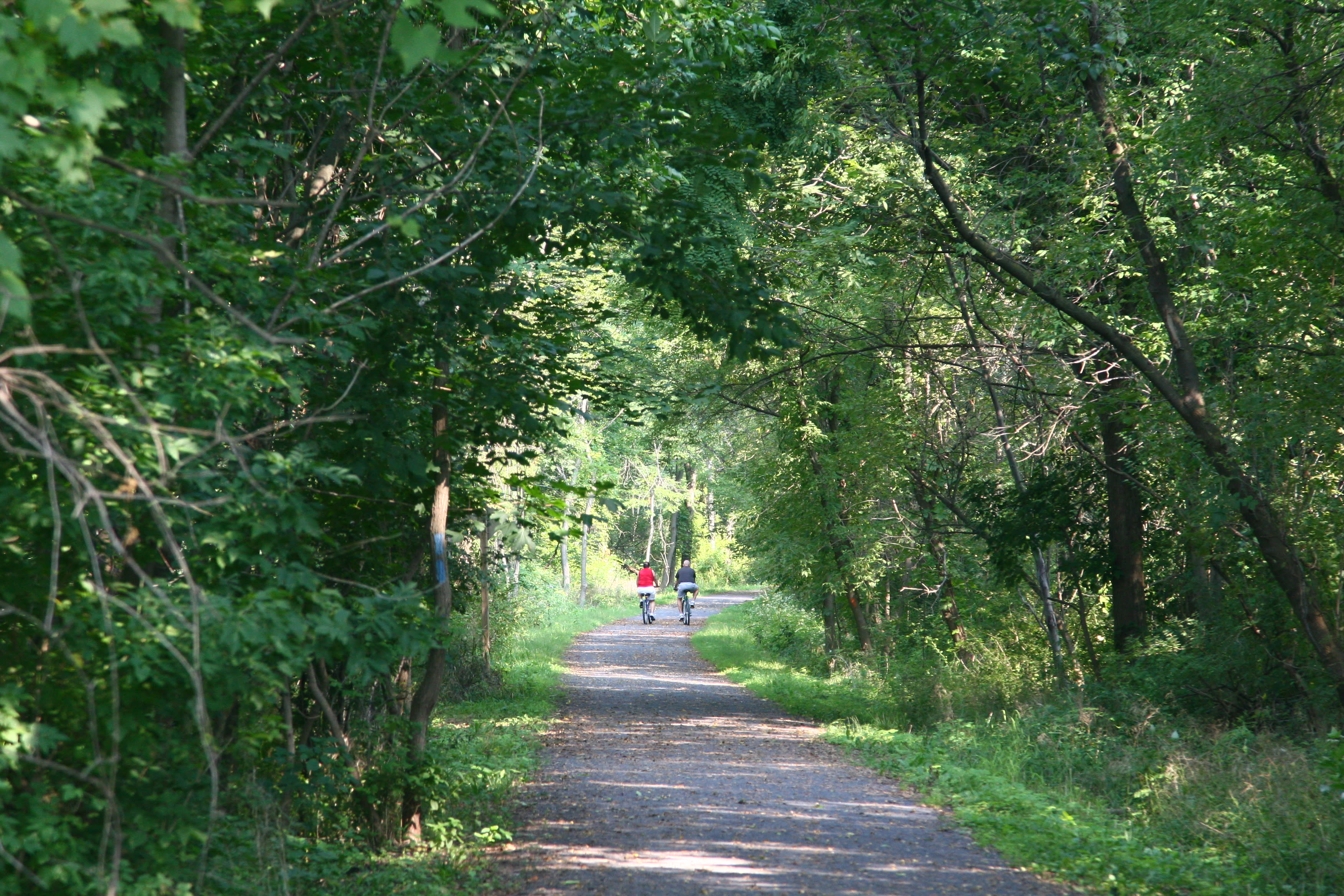 Catharine Valley Trail
The Catharine Valley Trail: this year-round recreational trail offers a great opportunity to walk or bike an easy, paved path. Running from Watkins Glen to Horseheads, the trail follows abandoned railroad and canal tow path corridors.
Havana Glen Park: along a short, easy walk, you'll skirt a cascading stream, go up a few steps and be struck by the way the rock walls of the gorge seem to open before you as you round the bend and find Eagle Cliff Falls. You can even walk right into the water and under the waterfall here. (Havana Glen Park, 135 Havana Glen Road, Montour Falls, NY 14865)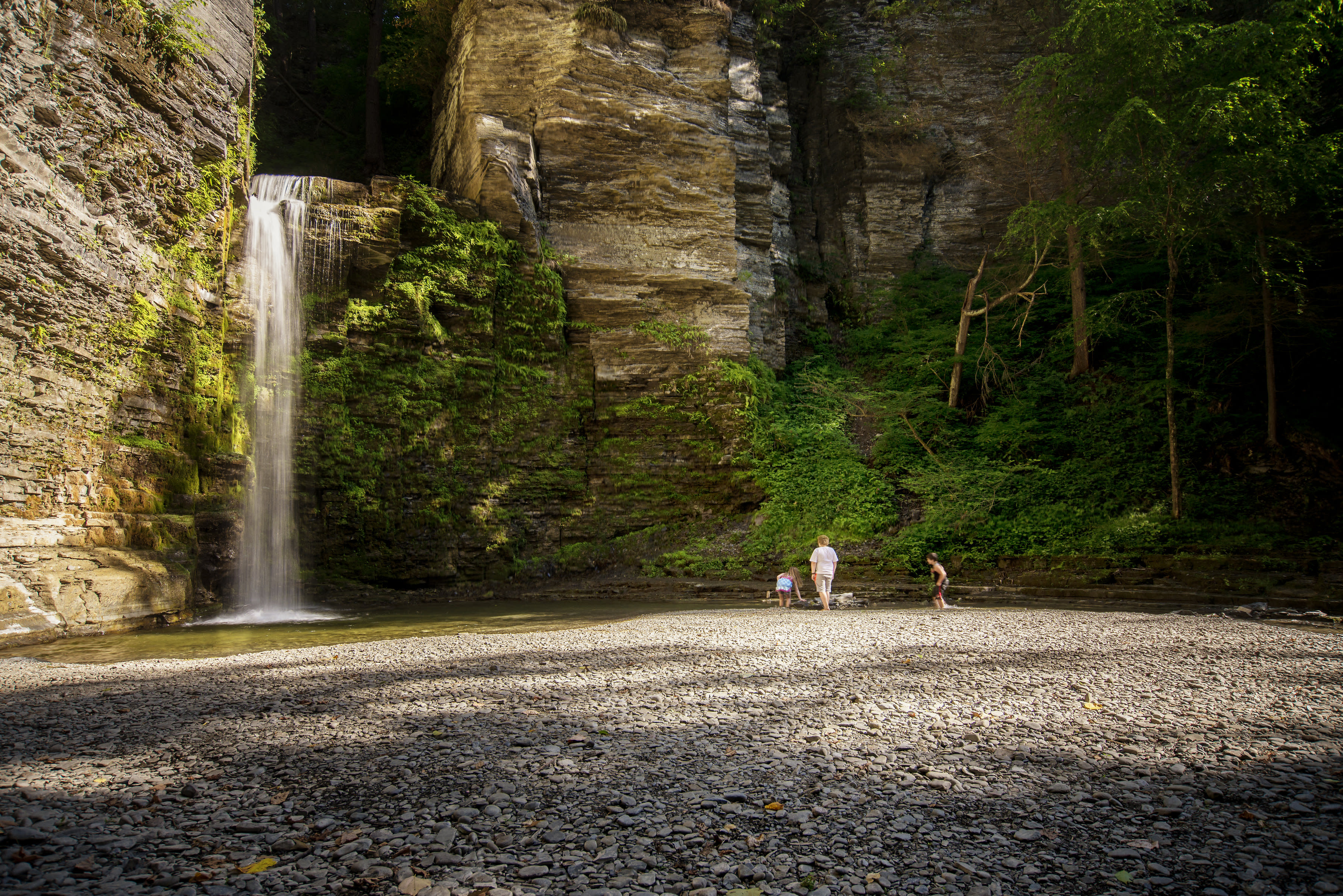 Havana Glen Park - Photo Courtesy Stu Gallagher Photography
Sugar Hill State Forest: located west of Watkins Glen and covers approximately 9,085 acres. Among its many attractions is the Six Nations Trail System, approximately 35 miles long. It is open for hiking, cross country skiing, horse use in the summer months, and snowmobile use when there is sufficient snow cover. Sugar Hill is also home to one of the last fire towers in New York State that is readily accessible to the public. The observation deck is closed, but the stairs up to the top landing are open for climbing at your own risk. At the end of your 68-foot climb you will be richly rewarded, with a 15-mile vista in all directions. On a clear day the view is truly spectacular. (Sugar Hill State Forest, 3361 Tower Hill Road, Watkins Glen, NY 14891)
Geocache along the Points of Inspiration Trail: Points of Inspiration is a three-county driving trail of scenic view and architecture. Based around these driving trails, the Geocache Adventure offers a treasure hunt experience with caches located at each of the 32 driving trail sites. Click here to learn more.
We hope you are feeling inspired! If you have any questions or need additional advice, feel free to give us a call, our area experts are happy to help: 800-607-4552. Our website also offers a wealth of information, visit www.watkinsglenchamber.com. You can also find fun and interesting things to do along with announcements, events, and more on our Facebook pages here and here. Also, follow us on Instagram for more Finger Lakes inspiration! Now... what are you waiting for?! Get out there and enjoy!