The holidays pack a heavy punch with travel, social events, and of course, eating and drinking. Many of us end this stampede of celebration with the phenomenon of dry January; 31 days of no alcohol! It can be hard to stick with it through the entire month, but with these local mocktails you can stay social and be refreshed with delicious and inventive combinations. Check out this list of local restaurants, breweries, and bars offering top-notch mocktails! 
Two Goats is known for its local charm and live music. As a brewery that prides itself on providing "good beer, live music, epic sunsets and time with friends", they must provide fun drinks for designated drivers, right! Starting off they offer a crisp and refreshing ginger beer from Ithaca Beer Co. If that is too spicy for your taste, enjoy a sweet root beer from Saranac Brewery. It is one of Saranac's most famous non-alcoholic beverages for a reason! Lastly, if neither of those wet you whistle, they also carry a variety of bottles kombuchas to sip on. 
Check out their events page for this month! 
 Finger Lakes Cider House provides farm to table foods, delicious ciders, and unique non-alcoholic beverages. If you spent your summers out in the woods at camp, you may be familiar with switchel. This combination of vinegar tonic, maple syrup, and honey strikes some as odd, but it always strikes me as delicious. The tonic provides the same sharpness that you would get from a strong cocktail, perfectly matched with the sweet honey and maple syrup. If you don't feel like switching it up with switchel, Finger Lakes Cider House also offers house-made shrub in a variety of flavors to mix with sparkling water. This fun fruity syrup comes seasonal flavors, and they are currently offering blueberry lavender shrub, which sounds "berry" good to me! 
Take a peek at their farm-to-table menu here. 
Kindred Fare is a restaurant in Geneva dishing out delicious dishes in a relaxed environment. They have a fabulous menu of food and drinks, including some spirit-free cocktails. The pink limeade features hints of hibiscus, cucumber, and lime. It's like slowly sipping a vacation, without the threat of a hangover! If you'd prefer something less fruity and more earthy, they also offer a gingery black walnut cocktail. With black walnut, ginger beer, and lemon, this mocktail levels up in the game of non-alcoholic beverages, adding depth, warmth and complex flavor to your glass.  
Look at all they have to offer on their menu here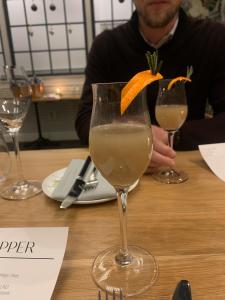 The Quincy Exchange in Corning is famous for provided an elevated dining experience.  Sophisticated meals, elegant appetizers, decadent deserts they definitely don't' take ant shortcuts with their mocktail list! The Erastus features a non-alcoholic spirit known as seedlip, which is an herbal concoction that paints palette in the same way that liquor does, without the added punch. This mocktail also includes earl grey, honey and lemon juice, creating a sweet, bitter, and overall complex drink to pair with any meal. On the drink menu for January, a mocktail called "hedge your bets" is also included.  Citrus takes center stage with a combination of grapefruit juice, lemon juice, and orange preserves. Light, sweet and decadent, and alcohol free, what more could you ask for? 
See what else they are featuring on their menu this month 
So maybe the fancy mocktails aren't for you. You just want to sit at a bar and order a classic, without having to worry about googling fancy ingredients. Well, then Solera Tap House is the place for you! They will make any mixed drink alcohol free, and tailored to your liking. Have a thirst-quenching lavender lemonade, or an orange crush mixed drink without the liquor. The lemonade is a classic beverage with a twist of lavender, diving it extra layers of sweet flavor. Orange juice and lemon-lime soda combine to make the orange crush, a zesty and delicious drink to enjoy after a long day. 
Check out what else they have to offer here