Seneca Lake is a standalone American Viticultural Area (AVA), located within the Finger Lakes AVA. The original petition explains it well, documenting dozens of pages of the uniqueness that is Seneca Lake and the immediately surrounding area.
The Seneca Lake AVA covers 320 square miles. According to the New York Wine and Grape Foundation, it is "characterized by the "lake effect" meso-climates along Seneca lake, the "air drainage" of sloping hillsides, and glacial soils conducive to drainage."
The region specializes in Riesling, Pinot Noir, Chardonnay, Cabernet Franc, as well as sparkling wines and ice wines. There are, of course, French-American and Native American varietals found in the region as well. Winemakers here are used to unpredictability that Mother Nature often presents, and they are adept at adapting viticultural and winemaking processes to make fantastic wine as they go. Similarly, wineries are also producing unexpected varietals and styles, and in this post, we'll explore just a few.
Pet Nat is short for the French "petillant natural", meaning naturally sparkling. These wines are made through a single, continuous fermentation. In the simplest terms, wine is made when yeast consumes sugar in grape juice. The result of that process is alcohol and the byproduct is carbon dioxide (CO2 – bubbles!). With pet nats, fermenting juice is bottled while it is still fermenting. The fermentation then continues inside the bottle, creating a bubbly wine. Who says science isn't fun?!
Atwater's Assistant Winemaker, Wes Andrew shares his passion for these wines, "Pet-nats are unique in the way that they are essentially a captured fermentation… capturing aromas and flavors that would have possibly been lost if the wine had finished in a tank or barrel and then been allowed to age while exposed to oxygen."
He adds, "The yeast can bring some fun and funky tertiary flavors and aromas to the wine. There's also a bit of spontaneity to making pet-nats each year, especially for us at Atwater. While we always make our tried and true Riesling pet-nat, I usually am able to make a second pet-nat out of grapes we haven't tried before, such as the Lagrein/Zweigelt pet-nat that was just bottled recently. Lastly —and equally as important as my other reasons— is that I enjoy making pet-nats because they are fun, funky, unpretentious and vibrant wines that force you to reevaluate your idea of what wine really is."
Atwater Vineyards produces two pet nats: the Pétillant-Naturel Lagrein/Zweigelt 2021 (a 50/50 blend) was bottled in early November. The Pétillant-Naturel Riesling (100% Riesling) was bottled in late December. Both will be for sale in their tasting room (5055 State Route 414, Burdett, NY) and on their website in the spring, likely late March or early April.
Ventosa Vineyards was the first producer of Tocai Friulano in New York State.
The Tocai Friulano grapes are typically grown in the Northeastern part of Italy in the Friuli Venezia Giulia Region. The Tocai grape, a.k.a. "Sauvignon Vert", is a relative of Sauvignon Blanc. Wine made from these grapes is typically dry, with citrusy, nutty notes.
Marketing Manager Jackie Ceccere shares with us, "When Ventosa started, we really only wanted to specialize in dry reds, but also knew we wanted to offer something for white wine drinkers. In staying true to our roots and winery theme, we decided to include Tocai Friulano. The Tocai grapes were planted around 2005, before the winery building was even built or in operation." Taste this wine at Ventosa's tasting room (3440 NY-96, Geneva, NY) or purchase it online here.
At Penguin Bay Winery, on the east side of Seneca Lake, produces well-known vinifera wines including Riesling, Gewurztraminer, Pinot Noir, and Cabernet Franc. Owner Dave Peterson has also long worked with native grapes. Penguin Bay's Bella Rosa is a great example of an approachable, delicious, juicy (yet not cloying) sparkling wine, made primarily from the Isabella grape.
The Isabella grape has been grown in the Finger Lakes since the early 1900's and was one of the first grapes planted in the region. As Dave shares, "Bella Rosa has distinctive aromas of strawberries combined with juicy, grapey flavors, so much so that some people think we actually add strawberries to the wine. Of course we don't, but it's always fun to see their reactions."
The primary source of grapes for this wine are grown near Himrod on the west side of Seneca Lake.  A second fermentation takes places in pressure tanks, which produces naturally occurring bubbles that are more persistent than carbonated wines. You can find this wine at their tasting room (6075 NY-414, Hector, NY) or via their online shop.
Barbera is a red Italian wine grape variety, one of the most-planted red grape varieties in Italy. It produces good yields and is known for its deep color, full body, low tannins and high acidity. The team at Three Brothers Wineries & Estates planted 2 acres in 2006, to see if it could survive the cool climate. In the 10 years since, they've crafted these grapes many different styles of wine including a Reserve, a Bourbon barrel aged Barbera, sparkling, iced, and even an Amarone-style.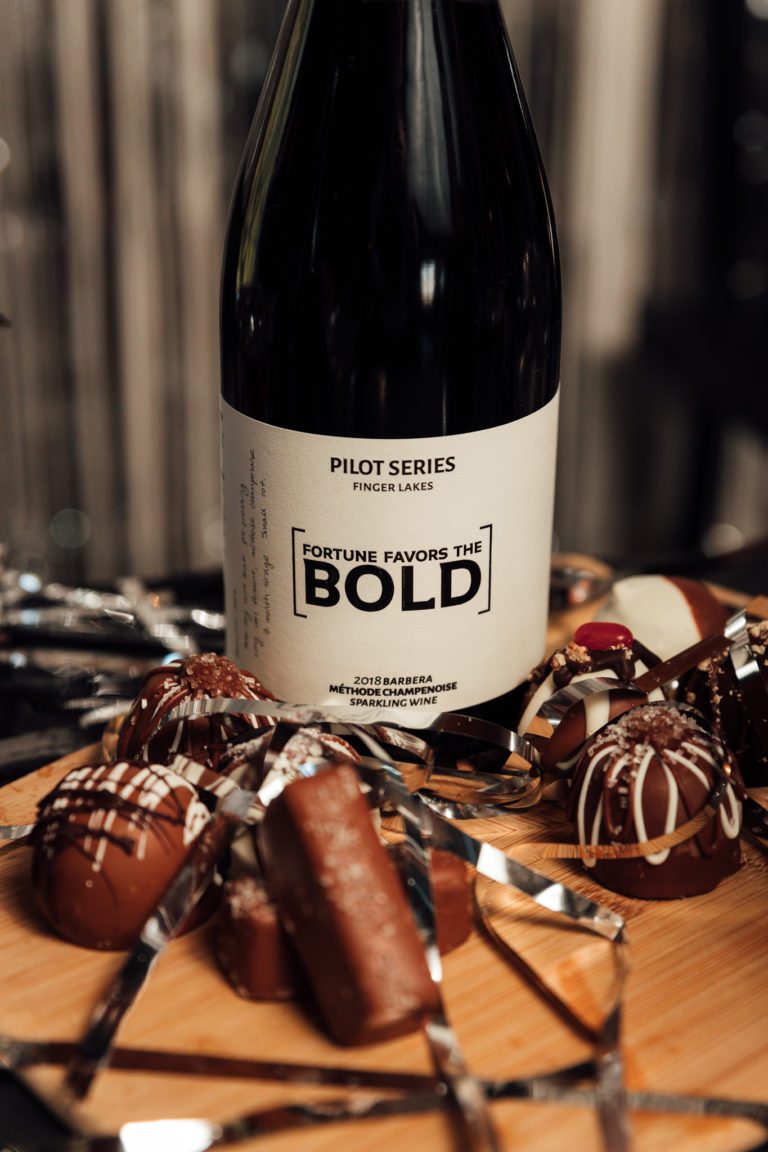 Winemaker, Kim Marconi shares, "The Barbera grape makes you think on your feet because not every year is the same. Pruning techniques change year to year based on winter damage and how fruitful the vines were the year before. As for the winemaking side, the chemistries are all over the place from year to year so we really have to draw on our oncology experience in order to tame the grape chemistry from year to years."
With the 2021 vintage, they made a carbonated Barbera, which will be part of their Pilot Series (a line of limited edition wines created with an innovative spirit) and they're calling it "On the Fly" because the decision to make a carbonated Barbera was made when they realized they had above-average yields at harvest. On the Fly will be bottled in February 2022. Find it in their tasting room (623 Lerch Road, Geneva, NY) or purchase online.
As all of the above wines indicate, the wine industry on Seneca is as unique as the lake itself. The spirit of those who started the wine industry is alive and well: daring to pursue things that are challenging, new, and different. They don't rest on their laurels, instead always seeking to learn and become even better.
These endeavoring individuals didn't just happen upon Seneca Lake, they chose it for a reason. Arguably, because they like a challenge. They rise to the occasion and provide good reason to keep an eye on what's coming in the future.
This is a guest blog post, provided by the Seneca Lake Wine Trail, and written by Brittany Gibson, Executive Director of the Seneca Lake Wine Trail