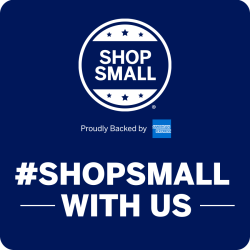 The Watkins Glen Chamber of Commerce is thrilled to be a part of the Shop Small Movement, proudly backed by American Express. This movement is a nationwide effort to support and celebrate small businesses every day and everywhere. Locally, we are excited to extend the effort with 28 Days of Shopping Local. We are creating a passport of all businesses participating in Small Business Saturday on November 27, 2021, and 28 Days of Shopping Local (through 12/24/21). The passport will be available by November 24. Please check back here to download or stop by the Chamber offices (214 N. Franklin St., Watkins Glen) to pick up a printed copy. We hope you will use the passport while you're visiting participating merchants. Every purchase will earn you a sticker and every sticker will earn you a chance in our raffle drawing for gift baskets from participating merchants. 
When you shop at small businesses, you both support our local economy and also promote thriving communities across the country. In fact, for every dollar you spend when you Shop Small, approximately 67 cents stays in the local community.* That's something we can all get behind.
Plus we warmly welcome all major credit card brands, including American Express® Cards, so you can pay for things you need in the way that's most convenient for you.
Thanks for shopping small with us — we appreciate your year-round support!
*The statistic cited is an estimate based on calculations using data on small businesses with under 100 employees from the U.S. Small Business Administration, as reported in the 2018 Small Business Economic Impact Study conducted by Econsult Solutions, Inc. (ESI) on behalf of American Express.