Small Business Saturday
Saturday, November 27 from 9 to 5 pm 

As a small business, it can be a challenge to compete with Black Friday deals. As your "Shop local" Neighborhood Champion, the Watkins Glen Area Chamber of Commerce wants to help you make the most of the holiday shopping season for locals and visitors alike. Let's support small and local business together! Small Business Saturday is made possible by American Express.

Registration and Fees: This program is available for any business interested in participating, regardless of membership status. WGACC members may participate complimentary, while the fee for non-members is $50. Completed registration forms are due no later than Friday, October 29, 2021. If payment is required, you may pay via check or credit card (we have Square now!). Checks can be made out to WGACC.

*Please note: We are waiting for current materials and logos from American Express. Updates will be made to this page the week of 10/4/21*

To register your business, click here!
To download a registration form and return, click here!
 
Kick Off Party - The Kick Off Party will take place on Friday, November 19 from 4:00 to 6:30pm at the new Seneca Lake Events Center in Clute Park. This is a perfect time to pick up your Small Business Saturday packets from American Express and enjoy a free skate on the new ice rink. Sips and treats will be served.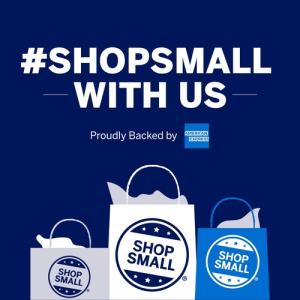 Shop Small Pledge - For the third year we are asking the community to take the pledge to Shop Small business this holiday season! Encourage your patrons to take the pledge and support our local economy. You'll receive shareable graphics for your social media platforms.
Extra Promotion - Small Business Saturday participants will be promoted on the WGACC website, social media pages, and window display leading up to the event. The WGACC will also be taking out paid advertising to promote the day-of event and all the businesses participating. We are working with Chamber partner, Seven Mountains Media. If you'd like specific information regarding the promotion of the event, please reach out!
Day-of Activities - On November 27, customers will receive passports that show each participating business' promotion! Businesses without a storefront are welcome to request a pop-up shop in the WGACC on a first come, first served basis, where there will crafts for kids, a welcome station for shoppers, and more!
28 Days of Shopping Small - The benefits don't end at closing time on November 27! Between November 28 and December 24,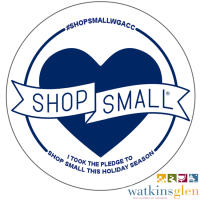 patrons can use their passport to continue supporting local businesses. Patrons are encouraged to visit and shop at as many participating businesses as they can during the 28 Days of Shopping Small, and use the discounts offer with the passport. Each discount may only be used once and an employee should mark the passport at check-out. Just another reason for patrons to shop small and enjoy all the Holiday Happenings and Winter Traditions in Schuyler County! 
  If you have questions, please contact Events Manager Abby Lane at 607-535-4300 or by email at Abby@WatkinsGlenChamber.com.
Error: This widget can only be used at /event/