Media Kit
Destination Travel Network &
Watkins Glen Chamber of Commerce
Advertising opportunities on WatkinsGlenChamber.com
For pricing and program details: advertising@DTNads.com
Creative Information:
Responsive website design allows advertisements to display on all devices.
All placements are templated and designed to match the visual aesthetic of WatkinsGlenChamber.com
Images should be single photographs without any overlaid elements, including logos. No collages or "photoshopping," please.
All character count specs include individual spaces, punctuation marks, and letters. We recommend using a character count tool such as http://www.charactercountonline.com/ to track copy length.
Send creative assets to support@dtnads.com.
Run of Site Banner
Photo (1690w x 596h pixels)
Headline (30 characters)
Body (120 characters)
Clickthrough URL
Sponsored
Our charming area offers a robust selection of dining options, so prepare to be delighted!
Read More
Spotlight
Photo (689w x 506h pixels)
Headline (35 characters)
Body (140 characters)
Clickthrough URL
Wherever you stay, you'll be welcomed with an open heart and a little bit of "home" while away from home.
Featured Listing
Pulls content from your existing listing detail page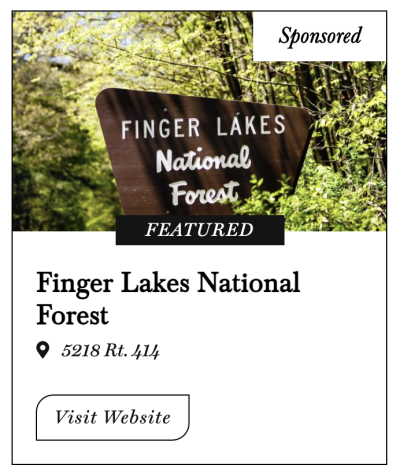 Mobile Banner
Photo (75w x 50h pixels)
Headline (45 characters)
Call-to-Action (11 characters)
Clickthrough URL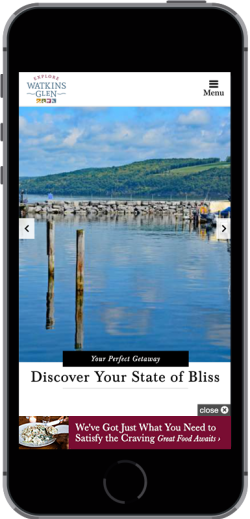 Premium Page Sponsor
Photo (1023w x 895h pixels)
Headline (55 characters)
Body (180 characters)
Clickthrough URL
Sponsored
Waterfalls abound in the Finger Lakes Region! We have so many for you to see and explore.
Read More
Header Image
Photo (1400w x 821h pixels)
Headline (40 characters)
Body (200 characters)
Clickthrough URL
Sponsored
Beyond the incredible hiking on the Gorge Trail and Rim Trail, Watkins Glen State Park offers much more to see and experience! Read More