Great Escape ...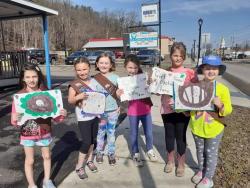 Thank you for all you do for our community!
For the last few weekends of March, the Great Escape hosted members of a local Brownie troop to sell Girl Scout cookies. The annual cookie sale is the biggest fundraiser for the nationwide organization that is dedicated to "building girls of courage, confidence, and character who are ready to make the world a better place."
Owners Peter, Eileen, and Jackie Honsberger are well known for their collaborative spirit, partnering -- for instance -- with Seneca Sunrise Coffee to make the Great Escape's top-selling ice cream as well as regional wineries to make cold and creamy desserts that perfectly complement our world class wine trail.
Join the Honsbergers and their team of scoopers as the Great Escape begins its 40th season on April 1.