Get the skills and info you need to succeed!

Providing opportunities for our members to grow professionally is what it's all about. The Watkins Glen Area Chamber is always looking for ways to offer our members education that can help make their businesses and themselves thrive. We have heard our members when they have asked for tips for social media, for financial planning advice, for legislative updates. We are actively working to implement more programs for you to take advantage. Our opportunities listed below are just the beginning. Continue checking back to see more seminars or events geared toward your professional development. Please be sure to register for these events if required. Questions? Please email abby@watkinsglanchamber.com or call us at 607-535-4300. We look forward to helping you grow.
Upcoming:
Eclipse Planning Workshop
Wednesday, September 27 | 8:30 - 10:00 AM
Watkins Glen Harbor Hotel
Registration below.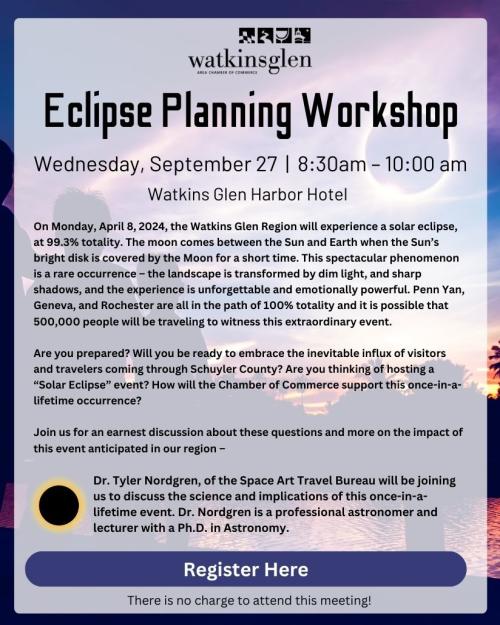 Past:
Legislative Roundtable with Congressman Langworthy
Monday, August 28
11:30 am - 1:00 pm
Hardinge, 1 Hardinge Drive, Elmira

Join us for a roundtable with Congressman Langworthy. The Congressman will talk about current issues, provide updates on his work in DC and locally, and participate in a Q&A with attendees. Lunch is included, therefore advance registration is required. Please register online here or by emailing jbmorgan@corningny.com by Wednesday, August 23. 

Upon arrival at Hardinge:
Follow the signs for the North End Lobby.  Parking is available in front, along the side and in back of the building.

This is a joint program brought to you by the Watkins Glen Area Chamber, Chemung Chamber of Commerce, and Corning Area Chamber of Commerce.
Postponed
Tuesday, May 16 | 8:30 - 10:00 am | Harbor Hotel | 16 N. Franklin, Watkins Glen, NY 14891
Planning for the Business Owner with H & H Financial Group 

You are invited to attend Planning for the Business Owner, a complimentary informational workshop designed specifically to review many of the issues faced by closely held business owners today.
The impact the loss of a key employee has on the owner of a business
Ways to reward key employees and owners
Estate planning issues that will be faced by the business owner and their family at death
To help lay out a "road map" of action plan for implementing solutions
---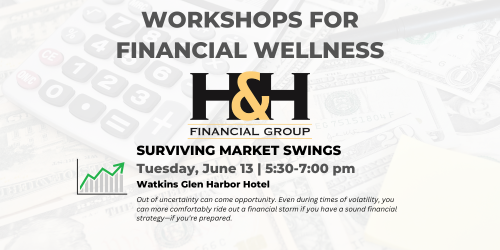 Thursday, June 13 | 5:30 - 7:00pm | Harbor Hotel | 16 N. Franklin, Watkins Glen, NY 14891
Surviving Market Swings with H & H Financial Group 

Out of uncertainty can come opportunity. Even during times of volatility, you can more comfortably ride out a financial storm if you have a sound financial strategy—if you're prepared.
---
Nautical archaeologist Art Cohn will report on his continuing underwater explorations of Seneca Lake at illustrated talks in Hammondsport and Watkins Glen in late September. Cohn has for 40 years located, documented and advocated for the public value of submerged cultural resources, aka "shipwrecks." In his talk he will report on the Survey Project's research findings to date. He also will give an overview of Seneca Lake and its significant role in commercial and passenger transportation in the 1800s.

Cohn, an affiliated scholar of the Institute of Nautical Archaeology at Texas A&M University, is the principal investigator of the Seneca Lake Survey Project, which launched in 2018. He and his crew continued their work on the lake this summer. The Finger Lakes Boating Museum in Hammondsport is one of the key project sponsors.

"The Legacy of the Erie Canal: A New Survey of Seneca Lake Reveals its Geological History and a Treasure Trove of Canal-era Shipwrecks" will be presented on Tuesday, September 27 at 6:30pm at the Watkins Glen Elementary School Auditorium. While registration is not required, you can register by clicking here. 

These talks are sponsored by the Finger Lakes Boating Museum, the Schuyler County Historical Society, America's Boating Club-Finger Lakes Chapter, the Watkins Glen Area Chamber of Commerce and the Watkins Glen Yacht Club.
---
Legislative Roundtable
Tuesday, July 26 | 11:30am-1:00pm
Radisson Hotel Corning
The Chemung County, Watkins Glen and Corning Area Chambers of Commerce invite members to a special tri-county Legislative Roundtable.

Assemblyman Phil Palmesano, Assemblyman Christopher Friend and Senator Tom O'Mara will join us for an update on current legislative topics and issues.  They'll share a recap of the previous legislative session, some things they expect to see coming, and answer questions from attendees.

A buffet lunch is included.  There is no admission fee, but advance registration is required by Friday, July 22nd.  

Government Affairs Programs are sponsored by Harter Secrest & Emery LLP
---
Understanding the NY State Budget & Its Impact On Business
Thursday, March 24
9:00 - 10:00 am
via zoom

The Watkins Glen Area Chamber of Commerce is partnering with the Chemung Chamber and Corning Area Chamber of Commerce to host a webinar with the National Federation of Independent Business (NFIB). 
Join the conversation about what's going on in Albany as another legislative session kicks off and New York State negotiates a $216 billion budget. NFIB will provide an overview of what's included, and what's not included, in the New York State budget proposal, and the policies impacting New York's business community moving forward. The special guest speaker for this session is Ashley Ranslow, New York State Director, NFIB.
There's a lot at stake for the state's economy and the business community - this is your opportunity to learn more and take steps to advocate for your business.
The meeting link will be shared in a confirmation email once you register. Register now as we only have 30 spots open!
To register for the Zoom webinar, please click here.
---
Workforce Trends Shaping 2022 - How You Can Prepare
Wednesday, April 6
9:00 - 10:00 am
via Zoom
Join us for a look at local workforce issues.  Christian Harris, with the NYS Department of Labor, and Kellie Christopher, with CSS Workforce NY, will give an overview of current trends, workforce retention strategies and training funding opportunities. His overview will include a focus on Schuyler County.

Christian will showcase local labor market trends through the pandemic and explore various reasons why individuals are not currently working. He will also offer time to discuss ways to attract disconnected individuals back into the workforce.

Kellie will share details on funding opportunities to support upskilling NYS workers and some creative recruiting ideas to grow your workforce! 

Christian Harris serves as a Regional Labor Market Analyst for the New York State Department of Labor's Division of Research and Statistics.  The Research Division is recognized as the primary source of labor market information in the State. He's responsible for the analysis of workforce related trends in the Southern Tier Region of New York State.

Kellie Christopher is currently the Senior Business Partner with CSS Workforce NY.  Her workforce development employment is enhanced by the 23 years she spent as a small business owner in Chemung county.  
To register for the Zoom webinar, please click here.