Small Business Saturday
November 27, 2021
Once again, the Chamber is a designated Neighborhood Champion by American Express for Small Business Saturday. We are currently recruiting small businesses in Schuyler County who would like to participate with specials, discounts, and deals for this annual tradition in Schuyler County. We have also invited merchants who do not have a physical location to discuss hosting a pop-up shop on Small Business Saturday at the Chamber Information Center (214 N. Franklin Street, Watkins Glen). Please check back for a complete list of participants!
JOIN US FOR 28 DAYS OF SHOPPING LOCAL!
The benefits don't end on November 27 ... in fact this is the first day of nearly a month of discounts and deals for those who shop local in Schuyler County. Between November 27 and December 24, patrons can use their 28 Days of Shopping Small Passport (download available here by November 24) to continue supporting local businesses. As you visit and shop at participating local businesses, ask them to stamp your passport with their unique stamp. Once your shop-local-shopping is complete, mail your passport to the Chamber for the chance to win a gift basket filled with products from Small Business Saturday participants! Every stamp you secure on your passport entitles you to one entry in the random drawing.
DOWNLOAD PASSPORT
(available by November 24; please check back)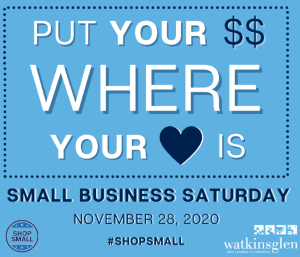 SMALL BUSINESS SATURDAY DAY OF ACTIVITIES!
NOVEMBER 27, 2021
Come #shopsmall with us!
The Watkins Glen Area Chamber of Commerce will be hosting a Shoppers' Welcome Station and Pop-Up Shops our Visitor Center and Offices at 214 N. Franklin Street! Stop in and enjoy the festive spirit! Pick up your shopping passports if you haven't already downloaded it! 

Scott and Ally of WINK 106 will be joining us for a LIVE broadcast on Small Business Saturday at the Chamber's Visitor Center! Tune in to WINK 106 to learn all the ways you can #shopsmall this holiday season!
The Watkins Glen Area Chamber of Commerce has been invited again by American Express to participate in Small Business Saturday as a Neighborhood Champion #AmexSBSChampion! Our job is to unite shoppers and small businesses in our community.
Why should I #shopsmall and how does it affect me?
I'm glad you asked…because small businesses are the backbone of our local community, and now more than ever, we need to put our money where our hearts are and #shopsmall!
Look at the Main Street in "your" local area and imagine if there were no small business…there would be no character or individuality to our cozy towns and quaint villages. Not only do these businesses give us our sense of community, they make us a unique place for visitors to explore and get a sense of what our community is really all about! And let's face it, there is something special at every turn here for locals and visitors alike!
Think about all of the organizations or service groups you and your family are a part of. Most of those organizations or groups are donation-based, right? Well small businesses support their communities by donating to local charities, youth organizations, service groups, and food pantries.
Do you ever walk into a local business and see another business owner inside purchasing something, or see their products for sale there? Well that's because small businesses tend to support other local small businesses! And it's not just for convenience or that they like their products and services. It's because they know supporting local small businesses will create a thriving local economy and create that sense of community we cherish. 
Local jobs. Local jobs? Local jobs! Shopping local and small businesses means creating LOCAL jobs! This will promote the local economic cycle, because those who are employed by these local jobs, will ALSO spend their money in the local economy.
Small businesses pay local taxes to the town/county with funds being used for improvements in schools, green spaces, and roads. Our mixed-use downtown area already has the infrastructure required to support these small businesses and our local economy.
So, here are some numbers for you:
Approximately $68 of every $100 spent at a local small business stays in our local economy!
Local small businesses donate 250% more to local non-profits and community causes.
If every family in the U.S. spent an extra $10 a month at locally owned, small businesses, over $9.3 billion would be directly returned to our local economies.
Every $1 spent at a small business creates an additional $0.50 of local economic impact.
Okay, so now you know why it's important to #shopsmall… now it's time to find out how!
Small Business Saturday takes place Saturday, November 27, 2021! But in Schuyler County, we are also extending the #shopsmall holiday shopping season into December with 28 Days of Shopping Local!