Schuyler Power Hours
Schuyler Power Hours are monthly networking opportunities for Chamber members and the public to meet, mix, and mingle and for prospective Chamber members to get to know our organization. Invaluable connections are made at our mixers and are perfect events to share more about your business with people who may not know you. To invite a prospective member, please contact Abby Lane to make arrangements. Prospective members are invited as the Chamber's guests. 
These events are hosted by a different member monthly, each offering a unique look into the variety of businesses available in the Watkins Glen area, and take place on the first Wednesday of the most months from 5:00-7:00 pm. Businesses interested in sponsoring our 2023 lineup of Schuyler Power Hours are encouraged to email our Executive Director Nigar Hale.
2023 Dates and Locations
January 26 | Fire & Ice | Watkins Glen Area Chamber Night 
(Watkins Glen Area Chamber members receive a discounted ticket and a complimentary drink ticket. Discounted tickets can only be purchased online through the link above. Only 50 tickets are available on a "first come, first served" basis.")
---
February 15 | Tri-County Mixer hosted by Hardinge, Inc. 
---
(click to view photos from the event)
---
(click to view photos from the event)
---
(click to view photos from the event)
---
(click to view photos from the event)
---
July 12 | Hazlitt 1852 Vineyards
Wednesday, July 12 | 5:00 - 7:00 pm
The Oasis at Hazlitt 1852 Vineyards | 5712 NY-414, Hector, NY
Click here to register!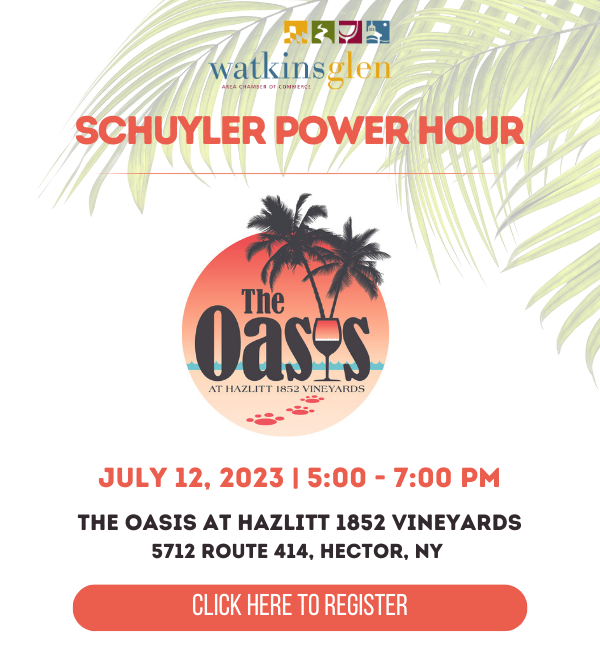 ---
August 2 | Finger Lakes Distilling
---
September 13 | Captain Bill's Lake Cruises (Seneca Legacy)
---
October 4 | Colonial Inn & Creamery 
---
November 1 | Magnolia Place Bed & Breakfast
---
December 6 | Watkins Glen Promotions
---
Reservations for these events are required. Kindly RSVP by clicking the venue name. You will then be directed to a registration form. Please contact the Chamber with questions at (607) 535-4300 or email Events Manager Abby Lane at abby@watkinsglenchamber.com.
---
---
The Watkins Glen Area Chamber would like to thank all of the businesses who hosted an after hours mixer in 2022! We know our members and guests had a wonderful time at each of your establishments. 
2022 Dates and Locations:
March 2:
 The Glen Beacon Theater
April 13:
 Fulkerson Winery
May 4
: The Neighborhood Center at the Arc of Chemung-Schuyler (Please enjoy our
photo gallery
from the event!)
June 1:
 Lucky Hare Brewing Company & Brochure Exchange (Please enjoy our
photo gallery
from the event)
July 6:
 Damiani Wine Cellars
August 3:
 Solera Tap House (Please enjoy our
photo gallery
from the event!)
August 11:
Tri-County Mixer at Elmira College
When your day's exploring has left you hungry trust that our bevy of unique eateries throughout Schuyler County will enable you to find exactly what you're seeking to sate your appetite! Grab some fresh goodies and coffee from a local bakery; grab a drink and snack among friendly residents at one of our bars; enjoy the views at a...
Read More