Camping
Watkins Glen State Park is the most famous of the Finger Lakes State Parks, with a reputation for leaving visitors spellbound. Within two miles, the glen's stream descends 400 feet past 200-foot cliffs, generating 19 waterfalls along its course. The gorge path winds over and under waterfalls and through the spray of Cavern Cascade. Rim trails overlook the gorge. Campers and day-visitors can enjoy the Olympic-size pool, scheduled summer tours through the gorge, tent and trailer campsites, picnic facilities and excellent fishing in nearby Seneca Lake or Catherine Creek, which is renowned for its annual spring run of rainbow trout. In 2015, the park was chosen from more than 6,000 state parks across the nation as a nominee in the USA TODAY Readers' Choice Poll for Best State Park in the United States, and won third place!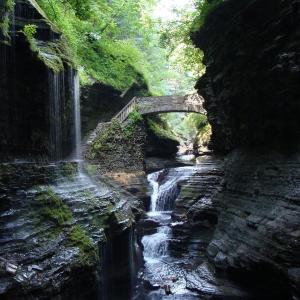 For Camping, Watkins Glen State Park is open as follows:
Loop A, B, C : May 8 - October 11, 2020.
Loop D, E, F: May 21 - October 11, 2020.
Loop A, B, C : May 20 - October 10, 2021.
Loop D, E, F: May 20 - October 10, 2021.
The Watkins Glen State Park boasts 295 total campsites that include RVs (trailer), Tent and Pull Thru Sites.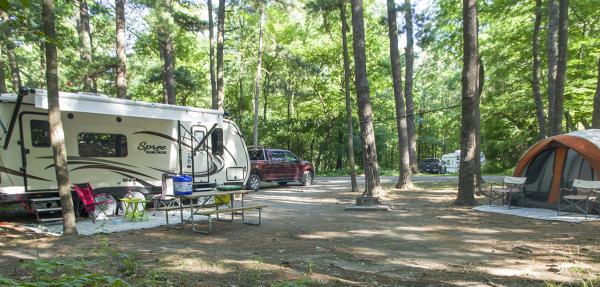 Pavilion Information: Watkins Glen has two pavilions. Prices range from $75 to $150 and can accommodate 62 to 213 people.
Pet Policy: A maximum of two pets are allowed in campsites and day use areas unless prohibited by sign or directive (for their own safety, pets are not allowed on the well-known Gorge Trail, though the North Rim Trail does allow pets). Pets are to be supervised at all times and either be crated or on a leash not more than 6-feet in length. Proof of rabies inoculation shall be produced if requested by staff. Pets are not permitted in playgrounds, buildings, golf courses, boardwalks, pools, and spray-grounds or guarded beaches (this does not apply to service animals). Please call the State Park with any additional questions about their pet policy, or any vital attributes, to confirm their most current policies at (607) 535-4511.
Amenities: Biking, Campsites, Cabins & Lodging, Fishing, Cafe, Gift Shop, Grills, Hiking, Hunting, Pavilions and Shelter Rentals (Accessible), Playgrounds, Playing Fields, Showers (Accessible), Snowshoeing/Cross-Country Skiing, Swimming Pool (Accessible), Waterfalls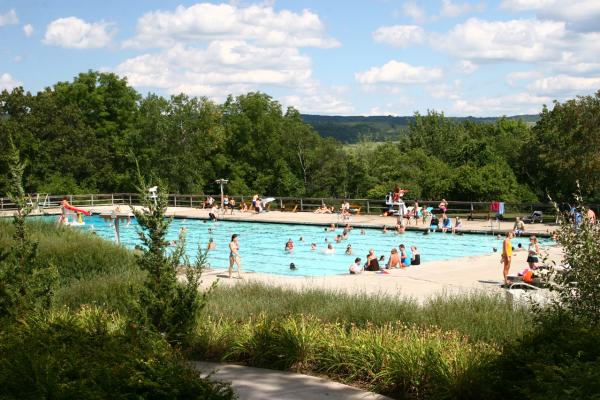 Looking for other camping options?
Call (800) 607-4552 or (607) 535-4300 for more detailed information on current lodging options- also including all types of accommodations like bed & breakfasts, cabins, camping and glamping, cottages, hotels and motels, inns, onsite restaurant, and vacation rentals- as we keep an updated list of availability in real-time, in-season, and are always happy to help!
Watkins Glen and Schuyler County can best be described as the place where Mother Nature meets Main Street. With dozens of waterfalls, miles upon miles of hiking trails, and parks...
Read More